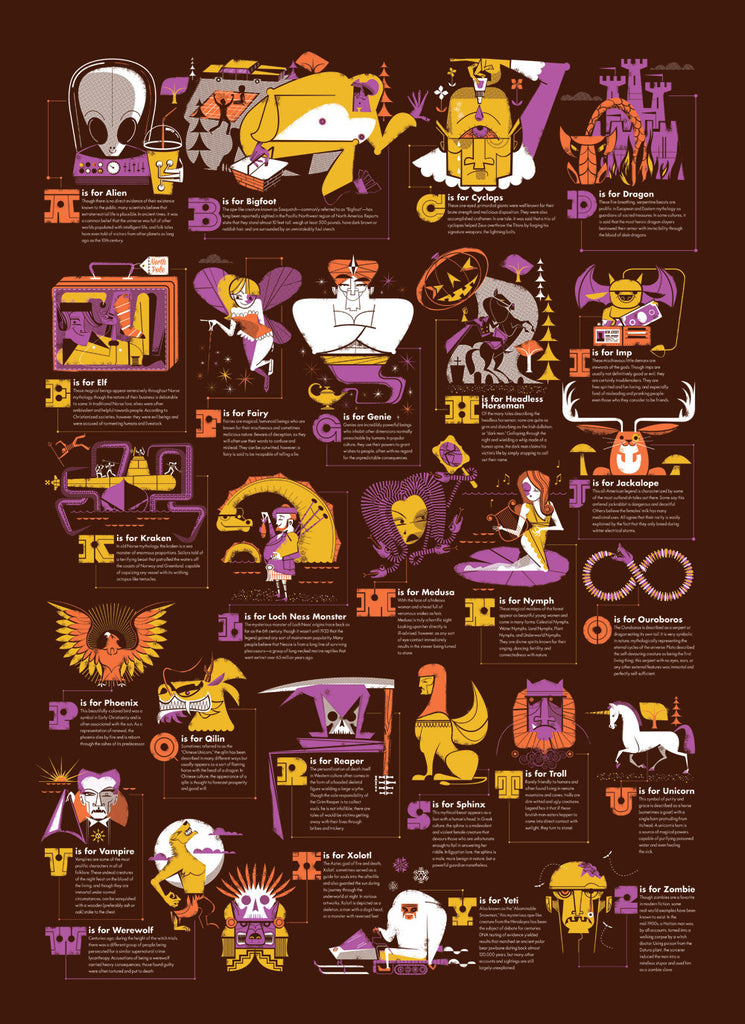 Dragons, Elfs and Jackalopes! What even is a Jackalope, anyway!? Find out here and explore other unknown creatures and ghouls of the universe with this jam-packed poster of 26 mythical characters. Illustrated and accompanied by fun facts and trivia, every mythical monster has fun tidbits of information. For instance, did you know that contrary to Tinkerbell, fairies are known to be rather mischievous and will often use their words to confuse and mislead. They can be outwitted, however because a fairy is said to be incapable of telling a lie.

Illustrated in collaboration with Scotty Reifsnyder. Fun facts written by Jordan Wittlich.

Limited Edition Screenprint

Here at 55 Hi's, we got our start screenprinting posters and have come to appreciate the craft and hard work that goes into making a poster by hand. From mixing the ink to pulling the squegee, we love keeping an element of hand made printing in our store. This poster is an example of this craft and comes as a Limited Edition screenprint in a run of 500. Every 18x24 poster in hand numbered in the bottom right hand corner.

Giclée Print

We also realize that not everyone wants an 18x24 screenprinted poster so we now offer Giclée Prints available in multiple sizes. All our Fine Art Giclée prints are run on our in-house Epson 7890 large format printer. We print on acid free, 100% cotton rag media with a bright textured finish using archival pigment inks for an ultra-bright and vibrant finish.