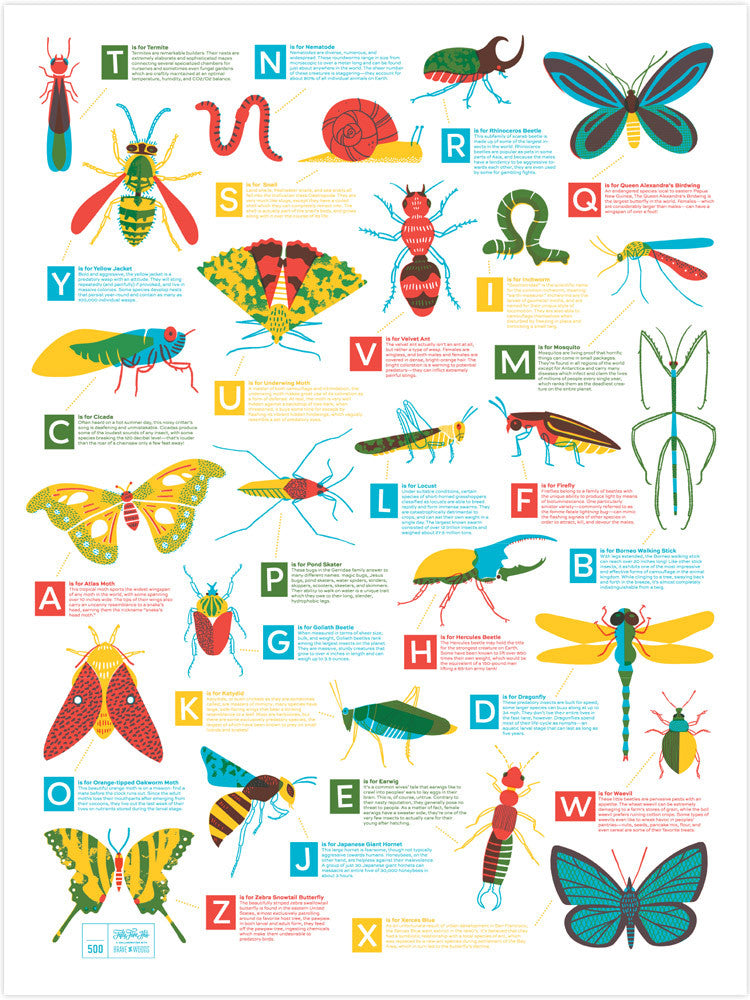 Ants, Earwigs, and Butterflies! Brush up on your ABC's with this jam packed poster featuring 26 different creepy crawlers and buzzing bugs from all over the world. Each letter of the alphabet is paired with a custom illustration from our friend Brad Woodward and accompanied by a fun fact you can use to impress your friends. 

For instance, did you know that a Goliath Beetle, when measured in terms of sheer size, bulk, and weight ranks among the largest insects on the planet. They are massive, sturdy creatures that grow to over 4 inches in length and can weigh up to 3.5 ounces. That's huge!

The Bugs Alphabet Poster is available as an 18x24 Limited Edition 4-color screenprint or in 4 different sizes run from our archival large format printer. If you don't see a size you are interested in, please let us know at info(at)55his.com.

Limited Edition Screenprint


Here at 55 Hi's, we got our start screenprinting posters and have come to appreciate the craft and hard work that goes into making a poster by hand. From mixing the ink to pulling the squegee, we love keeping an element of hand made printing in our store. This poster is an example of this craft and comes as a Limited Edition screenprint in a run of 500. Every 18x24 poster in hand numbered in the bottom right hand corner.

Giclée Print

We also realize that not everyone wants an 18x24 screenprinted poster so we now offer Giclée Prints available in multiple sizes. All our Fine Art Giclée prints are run on our in-house Epson 7890 large format printer. We print on acid free, 100% cotton rag media with a bright textured finish using archival pigment inks for an ultra-bright and vibrant finish.